---
Contact | Corporate Ads | FAQ | Fraud & Scams | Premium Listing Info | Privacy | Restricted Rules | Terms

Free basic listings and/or paid premium listings for Black Creek, Bowser, Buckley Bay, Comox, Courtenay, Cumberland, Fanny Bay, Horne Lake, Merville, Mt. Washington, Royston and Union Bay.
We also cover the adjacent islands of Denman, Hornby, and Texada as well as Powell River.
Publishing and Registration requires activation by you so check your spam folder if you don't recieve our activation email.
You should also whitelist our email address (webmaster at comoxvalleyclassifieds dot com).
Camping
1 - 1 of 1 listings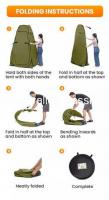 65.00 $
Tents
Comox ( Comox Valley )
September 1, 2022
Tents
Comox - Comox Valley
September 1, 2022
9 green colored pop up brand new shower tents or privacy tents available for sale. Could also be used for a porta potti set up. Easy to set up and take down for easy carrying and storage. See images for more details. Get yours while they last for a g...
Campbell River Classifieds | Nootka Sound Classifieds | Van Isle Classifieds